PRESENTED BY DUSK DANCES INC.
Withrow Park, our flagship event, has been the heart of Dusk Dances for 12 years, premiering bold and delightful dance works in Toronto's Riverdale community.
Hosted by Ryan Egan, with a musical performance by Moonshiner's Daughter.
This summer's program features exciting choreography from:
• Lua Shayenne and Roshanak Jaberi, with Bao – a traditional West African coming of age dance featuring dancers and drummers in a fusion of rhythmic movement and sound. Watch Video
• The Contingency Plan with Strathcona High, Class of '56 – a quirky and comedic take on 3 teenage girls, clad in perfect pastel dresses, arriving at their high school prom. Watch Video
• Michael Caldwell with The Horologium - a fantastical journey into the topsy-turvy world of a hapless caretaker, 4 dancers, and a nine-foot tall accordion-playing matriarch. Watch Video
• Throwdown Collective (Zhenya Cerneacov, Mairéad Filgate, Brodie Stevenson), with BoxSet – a fast-paced and acrobatic dance atop 4 wooden boxes. Watch Video
• Karen Kaeja, with Eugene Walks with Grace — a poignant duet exploring the charms and challenges of one 'extraordinarily ordinary' couple. Watch Video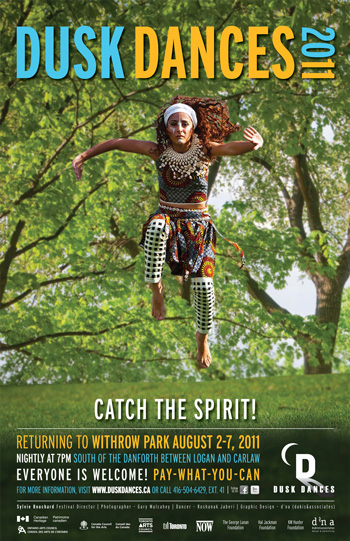 Withrow's BLOG
Wednesday, August 3rd - OH WHAT A NIGHT!
Last night, Dusk Dances 2011 opened at Withrow Park!
Wednesday, August 3rd - Evidance Radio
Dusk Dances appearance on Evidance Radio (CIUT89.5 FM)
Tuesday, July 12th - In search of a site at Withrow Park
Karen and Sylvie in search of a site at Withrow Park for Karen Kaeja's Eugene Walks with Grace!