Returning to the Scarborough-Malvern community for our 3rd year, our program at Neilson Park combines past Dusk Dances favourites, with new works from local youth and emerging artists:
• La Otra Orilla, with Cercania/1.
Performed by Myriam Allard, Hedi Graja & Éric Breton.
A piece for one dancer, one singer and one percussionist, proposes a purified and essential flamenco, one entirely focused on the rhythm and the drama of the dance.
Watch Video
• BoucharDanse with A Flock of Flyers: Remix
(first created by Sylvie Bouchard and David Danzon under the Company CORPUS).
Remounted and adapted by Sylvie Bouchard.
Performed by Zhenya Cerneacov, Marie-Josée Chartier, Irvin Chow, Mairéad Filgate and Meredith Thompson.
Due to severe budget cutbacks the 217th Canadian Flying Squadron has been left without any planes! Determined to fly at any cost, the flyers continue their regimented training in an imaginary terrestrial airfield.
Watch Video / BoucharDanse.com
• Allen Kaeja and Troy Feldman, with A Special Youth Commission
Envolving 12 participants from various GTA neighborhoods including Luis Figo, Philly Hitterz, Shaniece Phillips, Shayne Phillips, Richard Sunga, Samuel Sunga, Wendy Tu, Nicole Van De Cruize, Conroy Wilson, and Fanny.
Please click here to meet the team.
• Tamla Matthews, with Pieces of Paul
Hosted by Shannon T. Boodram.
Featuring local band Keith Pascall and musicians.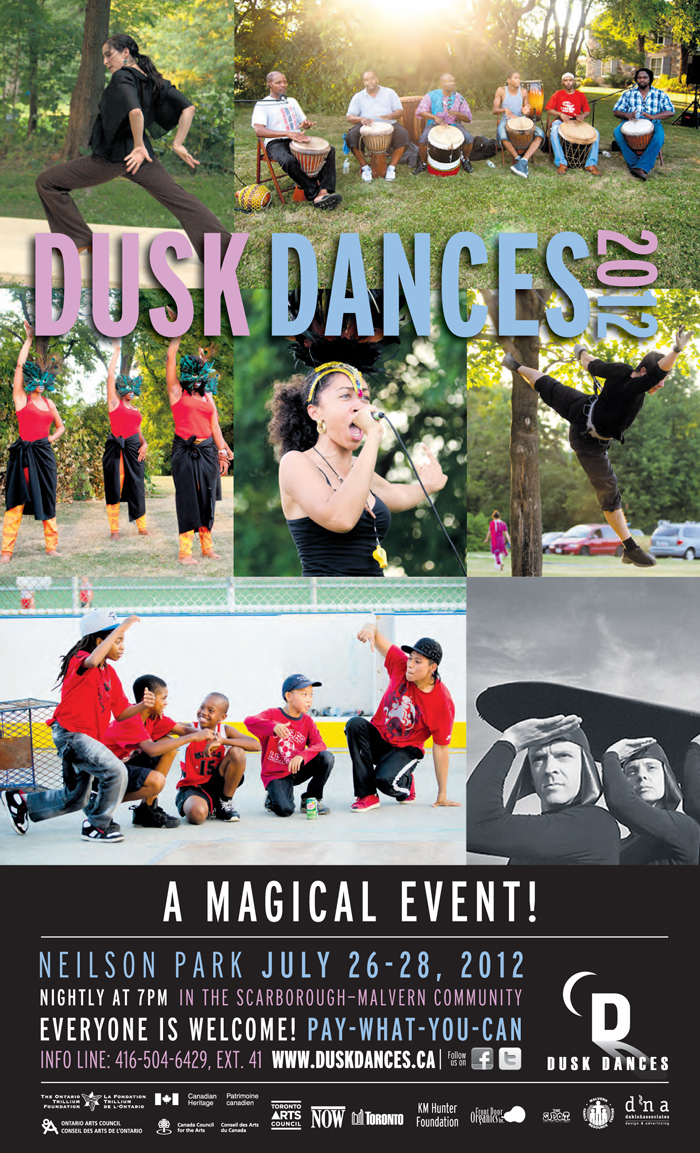 INFO
Band starts at 7:00 PM
Dances start at 7:30 PM
Neilson Park is accessible by TTC on bus route 133 Neilson Road, which departs from the Scarborough Centre RT station.
More info: 416-281-1376 ext. 24
WEATHER