PRESENTÉ par DUSK DANCES INC.
Withrow Park, our flagship event, has been the heart of Dusk Dances for 12 years, premiering bold and delightful dance works in Toronto's Riverdale community.
Le programme de cet été inclut des chorégraphies exceptionnelles:
• Lua Shayenne and Roshanak Jaberi, avec Bao – a traditional West African coming of age dance featuring dancers and drummers in a fusion of rhythmic movement and sound. Voir la vidéo
• The Contingency Plan avec Strathcona High, Class of '56 – a quirky and comedic take on 3 teenage girls, clad in perfect pastel dresses, arriving at their high school prom. Voir la vidéo
• Michael Caldwell avec The Horologium - a fantastical journey into the topsy-turvy world of a hapless caretaker, 4 dancers, and a nine-foot tall accordion-playing matriarch. Voir la vidéo
• Throwdown Collective (Zhenya Cerneacov, Mairéad Filgate, Brodie Stevenson), avec BoxSet – un spectacle acrobatique sur quatre boîtes en bois. Voir la vidéo
• Karen Kaeja, avec Eugene Walks with Grace — un duo poignant explorant les charmes et les défis d'un couple vraiment extraordinaire. Voir la vidéo
Animé par Ryan Egan, concert de Moonshiner's Daughter.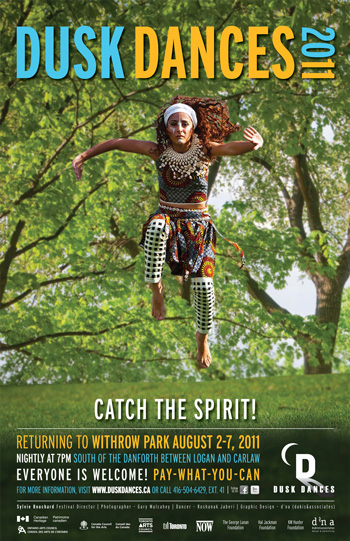 Withrow's BLOG
Wednesday, August 3rd - OH WHAT A NIGHT!
Last night, Dusk Dances 2011 opened at Withrow Park!
Wednesday, August 3rd - Evidance Radio
Dusk Dances appearance on Evidance Radio (CIUT89.5 FM)
Tuesday, July 12th - In search of a site at Withrow Park
Karen and Sylvie in search of a site at Withrow Park for Karen Kaeja's Eugene Walks with Grace!
INFO
Le concert commence à 19h.
Les danses débutent à 19h30.
Withrow Park est situé au sud de l'avenue Danforth, entre Logan et Carlaw. La station de métro la plus proche est Chester.
Plus d'informations au
416-504-6429 ext. 41