PRESENTED BY DUSK DANCES INC.
Withrow Park, our flagship event, has been the heart of Dusk Dances for 13 years, premiering bold and delightful dance works in Toronto's Riverdale community.
This summer's program features exciting choreography by:
• Zata Omm Dance Projects, with Crepuscular
Performed by Gregory Charles and Steven Smith.
A piece inspired by our fear of nightfall and darkness.
www.zataomm.org/
• Bageshree Vaze, with Twilight
A new kathak solo performed to live music.
• The 605 Collective (Vancouver), with an excerpt of Audible
Featuring four rambunctious performers who jump, dive and collide to create a rough-and-tumble dance, transforming today's hyper communication into a highly athletic contact sport.
Watch Video / www.605collective.com/
• Lua Shayenne & Co., with Crazing
A traditional Malian dance paying homage to her childhood memories of living in Africa.
• tiger princess dance projects, with Onward Ho, My Love
Choreographed by Julia Aplin.
Performed by Yvonne Ng and Robert Glumbek.
www.princessproductions.ca
Hosted by Dan Watson.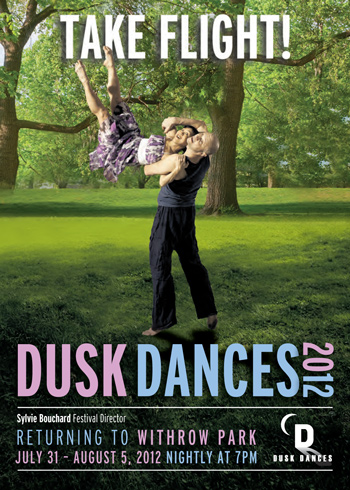 INFO
MATINEE:
Sunday August 5th at 2pm
Two of our shows have been interrupted by rain. We will present a matinee today at 2pm, as well as a show tonight at 7pm!
Band starts at 7:00 PM
Dances start at 7:30 PM
Withrow Park is located south of the Danforth, between Logan and Carlaw. Closest subway station: Chester.
More info: 416-504-6429 ext. 41
WEATHER